I ordered a laughable number of swimsuits online back over Easter weekend, hoping and praying that I'd find just one in the lot worth keeping. And, that wish came true with nothing more than I asked for. I kept this gold one-shoulder Michael Kors number and returned the rest to Macy's. When I modeled it for Mother and pondered if it made me look naked given the pale state of my over-wintered skin, she assured me that the notion was ridiculous. Wellllll, truth be told, when I first pulled my cover up off at Serenbe, Honey did a visible double take that liked to have given him whiplash before exclaiming "Good God, I thought you were naked." This is one time I'm afraid Mother led me astray. So, I'm keeping this beaut tucked away in the drawer until I get a few more days of sun under my belt.
(Find it here.) (And, yes, I look just like that in the suit. bwahahahaha)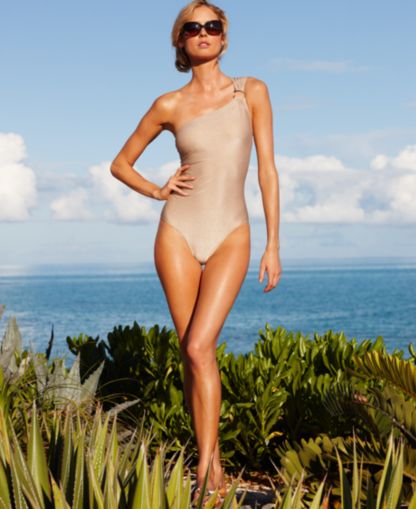 I've never been much of a hat person…until I spied a gal at The Master's with a monogrammed straw diddy and fell head over heels in love at first sight. I ordered mine from etsy for $20.50 including shipping and it came in no time flat. (Find it here.)
And just like that, I'm ready for summer!
xoxo